Our recent visit to Fontevraud Abbey included checking out some of their art instillations placed in different locations throughout the buildings. The one above, was a video of a naked man digging a hole! If its purpose as a piece of art was to get you thinking then it worked for me - was he digging his own grave or just a healthy outdoor type?
The web affect above was one of a number set out in the tunnels of the crypt...if it was meant to evoke fear then it didn't work for me but adding my own moans and groans in the darkness inspired others, I'm sure - it is important to release the child in you sometimes! Did it therefore work as art?
The 'great dormitory' was filled by this large 'instillation' by Claude Leveque, interesting and calming but at what price?
Many of the chateaux of the Loire Valley are filling empty spaces with artwork to try and increase visitor numbers and turn what were cold rooms into more interesting (?) places. Château d'Oiron has in fact given itself over to art and if you haven't visited it you should give it a try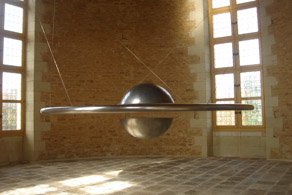 Chateau de Chaumaunt-sur-Loire has gone a little further with changing what I thought was its most redeaming internal feature, its chapel, into a piece of artwork!
Here in Southern Touraine every year we have our own popular L'art & Lard' festival in Le Petit-Pressigny which brings us art in its many forms.